Pictureview Slideshow
Pictureview Slideshow is a PHP script, released under the GPL license, which focuses on providing a simple picture viewer for a web site. Admittedly, there are a large number of photo albums scattered across the web, including ones that provide slideshow viewers. However, none of them seem to actually serve the purpose an image program should serve, which is to make the pictures easy to VIEW.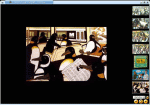 The script uses PHP and Javascript (with the option to create a static version) to display a set of images with one main viewport and a small image reel of thumbnails. The viewport accounts for the majority of the screen's realestate, allowing for the maximum view size without having to use scrollbars. The image reel on the side resembles a movie reel and can be advanced without having to reload the picture.
Using the administrative features, one can rename, delete, crop and rotate the image. To use these features, a cookie password (low security) is used to prevent people from messing with the photos.
In short, this program is about VIEWING the pictures, and is used best as a standalone viewer, but can also be integrated into a more comprehensive image program.
Releases
| Version | Release Focus | Date | Link |
| --- | --- | --- | --- |
| 0.1.8 | Slideshow improvements | 2002/10/28 | |
| 0.1.7 | Initial public release | 2002/10/28 | |